Exclusive visit to Eleven Madison Park. The New York chef Daniel Humm discusses food critics, his personal style, and why his restaurant has always been fully booked since August 2009.
Mr. Humm, are you living your version of the American Dream in New York?
Actually, it really is just that. I came to the US 13 years ago not speaking any English, with two suitcases and a handful of dollars in my pocket. Meanwhile, I have achieved everything I could ever have wished for as a chef. However, it was and remains an enormous amount of work. So you should be careful what you wish for. I have learned that it does not get any easier the more you achieve. Actually, it is more the opposite. As a young chef, I thought that once I had earned the three stars, everything would work automatically.
Three stars were always your explicit aim?
Yes, that was my goal right from the beginning. Before I started working as a chef, I was a cyclist. And for me, it was always about winning. Without this ambition, I would not even have started. I love the sport and am a very competitive person. Being a chef became a competition for me as well. The stars or the rankings are a part of this competition—one could say they are the trophies.
Currently, you have three Michelin stars and are ranked third among the World's 50 Best Restaurants. If we continue to speak in terms of cycling, would you say that you are now the one being chased?
(Laughs) Yes, you could say that. This also means that we always need to develop the concept of the Eleven Madison Park, because you get copied all the time. However, I still sleep well every night. We have a very creative team, I have three chefs who work exclusively on new dishes and we are fully booked every evening. We can really consider ourselves lucky and almost focus exclusively on cooking each day.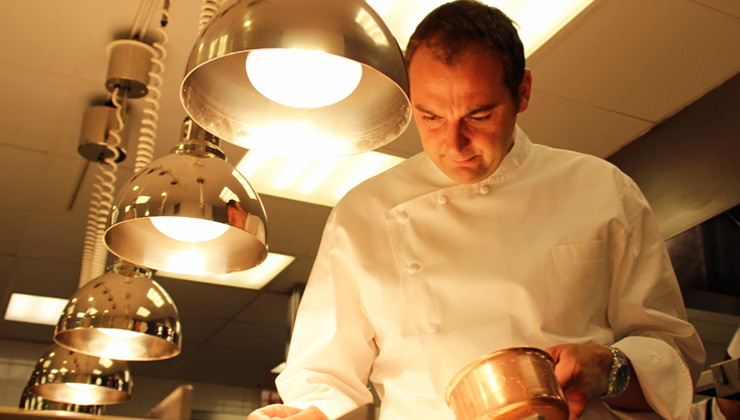 This was not always the case after you took over the Eleven Madison Park in 2006. What was the sticking point and when did you achieve your breakthrough in New York?
It was in 2009, at the end of the financial crisis. It was at this time that we received a four-star review from the New York Times and this suddenly changed everything for us (comment from the editors: there are just five restaurants in New York with such a review). Since August 2009, we have never had a free table again. However, before this time, there were months in which we even made a loss. We had evenings with only 15 guests and it was for one such evening that the New York Times critic announced they were coming.
… who undoubtedly wondered why the restaurant was so empty, right?
We played a little trick on them and invited 50 friends for the evening. Who would give an empty restaurant four stars? Today we are glad that our little trick worked out so well. But as I said, we had to fight.
Listening to this story, do you think the power of the restaurant critics or the impact of their reviews is too big?
Today, there is no longer just the Michelin Guide or the New York Times. Luckily, there are many more restaurant guides these days. So it does not necessarily mean the end when The New York Times writes a bad review. However, my goal is to establish one of the best restaurants in the world. This means, you have to play by the rules that apply for everyone. Whomever does it best, will win this game.
Are the rules fair?
If you have a first-class product and a truly special restaurant, sooner or later people will find out about it. Today, this is even more the case than before.
Your dishes and products are indeed unique. In your opinion, what makes your restaurant so special?
The Eleven Madison Park is a part of New York. Look around, we are at the heart of New York, in a historic building. In the 1920s, it was supposed to be the highest building in the world, but during the Great Depression, they ran out of money and stopped construction at the 29th floor. Hence the high ceilings—we are in the lobby of this building here. I do not think that you can find a restaurant like it anywhere else in the world and, in my eyes, such features are what make the best restaurants in the world. They have a "sense of place", you can tell where you are. What's more, a unique restaurant needs its own signature.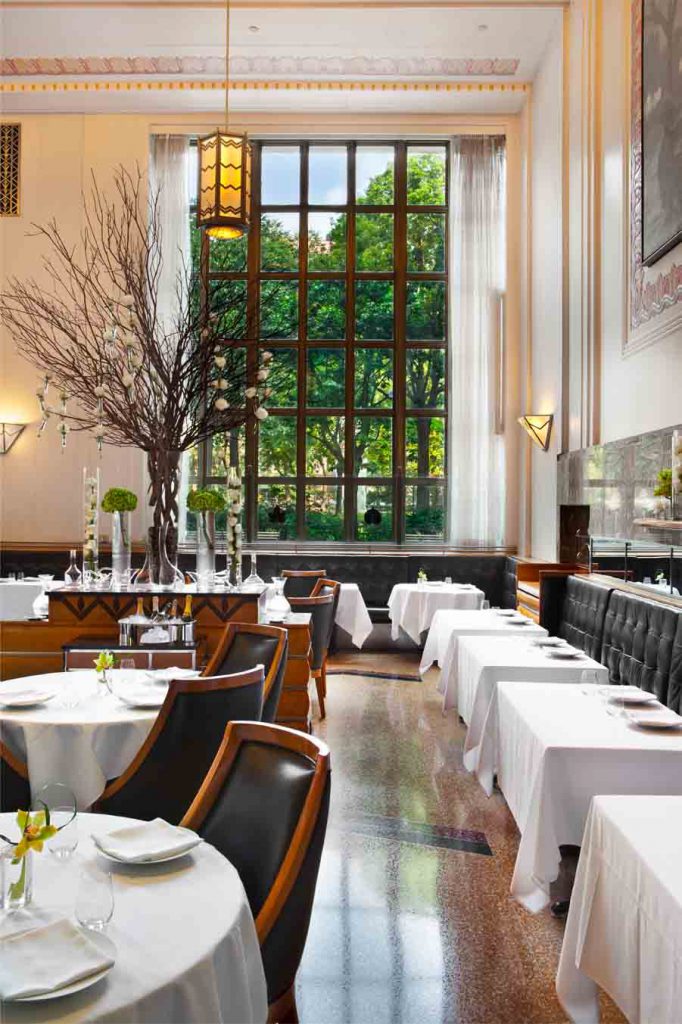 How do you define such a signature?
Just look at our own example. In 2010, we had a fairly traditional restaurant. I grew up with French cuisine and previously worked in classic three-star restaurants. We were successful and I became more confident. However, I could not really identify with such a classic gourmet cuisine and began to create the restaurant that I really wanted. That path was not an easy one, the New York Times had foreseen the end of Eleven Madison Park. But at that time, we had already become so popular that nothing could really stop us.
What was the reason for only offering one fixed price menu? The outcry was huge back then…
Exactly. At first, we had a menu comprising just 16 words, using only 16 basic ingredients. Over time, we focused more on the regional products, which we are using in our tasting menu. It is in this way that we change continuously—and will continue to change in the future.
You are always refining the menu. Which dish have you been serving the longest—do you have a signature dish, so to speak?
We have dry-aged duck that I cannot imagine not having on the menu. The sides change from time to time, but the duck is the only dish that we have really perfected.
Do all newly-developed dishes end up on the menu?
No, that is not possible. The majority of the dishes we develop do not make it onto the menu. However, no ideas are lost. We learn from everything we do. It is possible that we work six months on a dish and in the end, we do not serve it. Three months later, though, we remember a trick used in this recipe and it makes another dish perfect. Therefore, we also document everything, take pictures and record every step. It is a tremendously exciting process from the first presentation to the moment in which a dish ends on the menu.
Your explicit aim is to be number one on the Pellegrino List. I find it very bold to voice such a goal. Too bold, perhaps?
If you say it like that, maybe. But if a ranking exists, I prefer to be at the top rather than the bottom. Is there such a thing as the best restaurant in the world though? That is another question—and I do not think so. I am very proud that we come up in conversation when people are talking about the best restaurants in the world.
Talking about sustainability and regionality. What claim should gourmet restaurant pursue?
Everybody is talking about it. Excellent products, produced in the region. I don't want to talk about it—after all, everyone uses such products at this level. I am more interested in my own style, which has to be clear. I actually often find gourmet restaurants boring. I can count the chefs with their own style on two hands. I have the greatest respect for René Redzepi. What he did in "Noma" is unique. He is the chef, who has changed the most in the last ten years. Or take Victor Arguinzoniz, who cooks everything in his restaurant "etxebarri" over a wood grill. Andoni Aduriz from the "Mugaritz" is currently one of the most creative chefs. He was a pupil of Ferran Adria. And Ferran Adria of course cannot be missing from such a list. He has changed cooking itself and the attitude to food, which makes him very unique.
We have spoken a lot about work. How does your daily routine look?
This morning, I ran 12 miles in Central Park. These were the first two hours of my day. From half eleven in the morning until around midnight, I will be in the restaurant. During this time—at around 6 p.m., when service begins—I will visit my other restaurant, the Nomad. I want to be present there as well. I will spend the evening here in the kitchen. Once a week, I go to Union Square Greenmarket to say hello to the producers and see what is new. The daily shopping is done by my team though.
Speaking of your team, many German restaurants lack new blood. I suppose this is not a problem you are familiar with.
We are truly privileged in this regard. Excellent people from all around the world come to us, who want to work for us. And I do not think anyone regrets it. I also cannot recall anyone from my team even being late in recent years. It simply does not happen. And no one calls in sick without a good reason.
Do you have any tips for European restaurateurs?
You need to inspire your staff. Your staff need to learn something new every day. You must then invest in your team in order to keep the good people. You need to develop a "culture of togetherness"; people need to feel that they are contributing something important to the bigger picture. The old-school concept of "motivation through fear" does not work anymore. Young people do not want this anymore. Ultimately, the team and cooperation make the success.
And you tell your team: "Make it nice!". What do these three words mean for you?
It is the name of our company and also our philosophy that has got us a long way. "Make it nice!" not only refers to our kitchen, but also to the dining room, the service, the wine list, and the bar. It includes everything in the kitchen and also the interaction with each other as well as with our guests. We want everything to be on the highest possible level.